You've created a map, and want to upload it ? Very easy if you are member of the group "Createur de tableaux" (Maps creator).
1
. Create a new topic, with the title of your map, and your name or pseudo.
2
. Post an image of your map (size : 600 x 450 pixels would be the best), and a miniature (about 90 x 68 pixels)
3
. Click on "Choisissez un fichier" (Choose a file), and choose a
zip
file on your computer.
In this zip file, you can group several maps if you like. You are allowed a 20 ko max file per post.
4
. Click on "Valider" (Validate)
5
. You may preview your post, but you won't see your attached filed yet. Only after having
Sent
the post, you will see your file.
Now every member of the forum can download your map, by clicking on its name.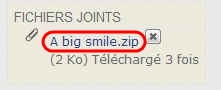 You can see how many times it has been downloaded (
Téléchargé
in french).
And you can choose to withdraw your file, just by clicking on the
x
button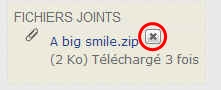 Patapin

Admin




Messages

: 1910


Date d'inscription

: 18/01/2010


Age

: 64


Localisation

: France 85



---
Permission de ce forum:
Vous
ne pouvez pas
répondre aux sujets dans ce forum