In order to
create a full mapset
, you need a program that concatenates (for example ConcaDec), a header(*) et 99 "'separators" that you will find in the download section, and... checked maps !
You can create small mapsets, with only 1 map, 2 maps... and so on. In this case, you won't need so many separators.
A.
Launch ConcaDec
1. Click on "Concaténation"
2. and 3. Choose the name of your mapset, add the extension .tms, and choose the folder where the file will be created (with the triangle radio button). Remember to put the mapset when it is created in the Triogical2 folder.
4. Save (don't worry, the mapset is not created yet !)
5. Choose the files to be concatenated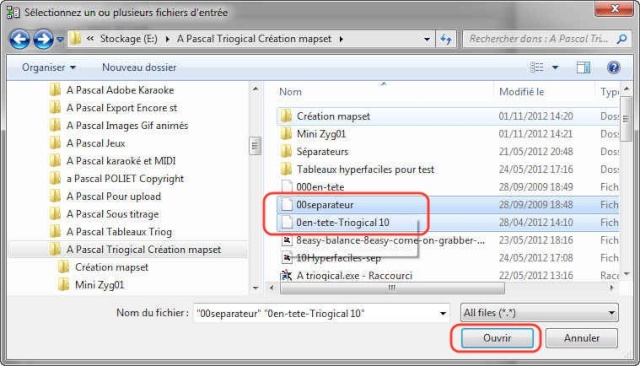 It is imperative to put the files in this order
- The header
- a separator
- a file
- a separator
- a file
- a separator
- a file
and so on...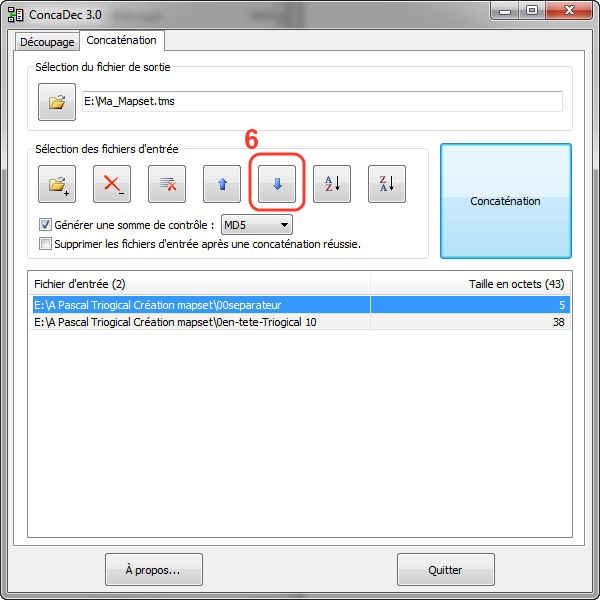 6. Modifying the  order
If needed, highlight the file to be moved, then use the up/dpown arrow keys to move the file within the list.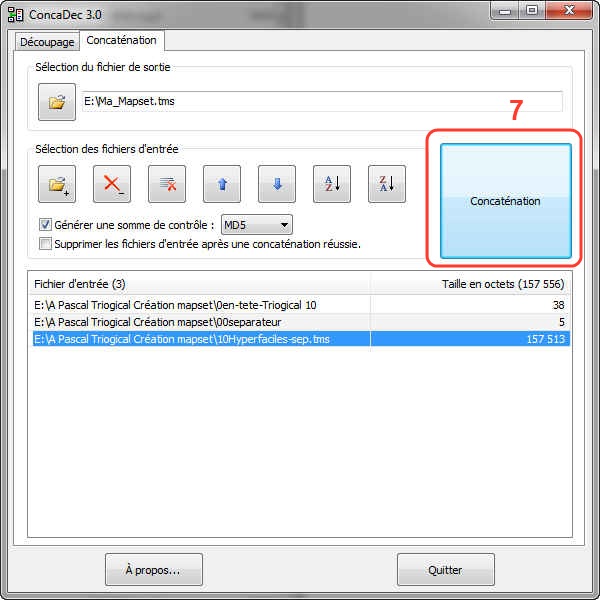 7. At last, comes the concatenation ! Click on "Concaténation"
A few seconds later, click on "Quitter" (Exit)
Go to the chosen folder, your new mapset awaits you ! Put in the Triogical folder, and play !
- - - - - -
(*) The header contains the name of the mapset.
You can modify it with a hexadecimal editor. 12 characters maximum
This topic is locked
.
Please discuss here
Fichiers joints

Header-sep.zip

Vous n'avez pas la permission de télécharger les fichiers joints.

(1 Ko) Téléchargé 0 fois

Patapin

Admin




Messages

: 1910


Date d'inscription

: 18/01/2010


Age

: 64


Localisation

: France 85



---
Permission de ce forum:
Vous
ne pouvez pas
répondre aux sujets dans ce forum